AMSN's First-Ever Legislative Virtual Fly-In to the U.S. Capitol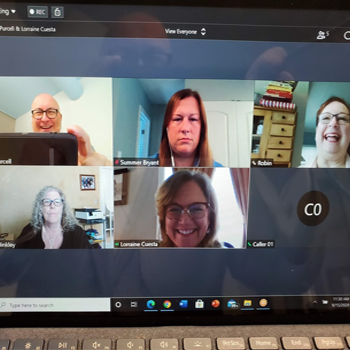 AMSN's first-ever Legislative Virtual Fly-in to the U.S. Capitol was a success and hundreds of AMSN members were a part of it!
Developed through the initiative of President Robin Hertel, EdS, MSN, RN, CMSRN, and Legislative Team Chair Yalanda Comeaux, MSN, MJ, RN, CMSRN, senior leadership and staff team members met virtually with representatives of seven U.S. House and Senate offices vital to med-surg nursing policy issues in Washington.
During the week of Sept. 14-18, participants brought forward the AMSN Petition to Congress signed by 200 AMSN members, which urged support for:
Preparedness, PPE and mental health resources helping nurses counter the COVID-19 pandemic. Access to care through funding Title 8 nurse workforce development and other AMSN priorities, and Innovations that improve care by making temporary authorization for telehealth access permanent.
Delegations from AMSN met with the senior staffs of Sen. Jerry Moran (R-KS), Cory Booker (D-NJ) and Bob Menendez (D-NJ), House Nursing Caucus leaders Reps. Lauren Underwood (D-IL, one of two nurses in Congress) and David Joyce (D-OH), and Reps. Jeff Van Drew (R-NJ) and George Holding (R-NC).
AMSN leadership teams are evaluating the 2020 AMSN Legislative Virtual Fly-in and already considering future plans to strengthen the voice of med-surg nurses in Washington and state capitals!
About the AMSN Advocate
The AMSN Advocate is the Quarterly Newsletter on the Med-Surg Advocacy Efforts of AMSN at the State & Federal Level.

Don't forget to visit us on the Advocacy section of the Hub Online Community for AMSN members to join in some important conversations.